Now in 2020, e-commerce is growing faster than ever. Five years ago, popular e-commerce platforms such as WordPress, Magento, Prestashop, Opencart, Joomla dominated the market, now the game has changed. Shopify, Wix, Square are now big players with a large market share of the e-commerce pie. Technology development also means that users benefit from it. Building an online store is now very simple. Just a few clicks with Shopify with little or no technical knowledge and WooCommerce. you already have a great online store, optimized for SEO with a fast loading speed. Selling products online allows you to reach a wider audience and new customer pockets, with statistics showing that more than 2.14 billion people will buy goods and services online by 2024. In addition, e-retail sales accounted for 14.1% of total worldwide retail sales in 2019, and these numbers are expected to reach 22% by 2023.
I have seen many customers with millions of dollars in revenue and they are happy to show us their results after their long efforts. Many people who have never learned about e-commerce will think it's just a joke or a down right lie, but only because they don't know how to become a store owner or how to achieve similar results.
If you are a newbie then I think this article is for you, I'll talk in general about e-commerce within my scope of knowledge, it's quite basic but this is what I have after several years of working in the field. So stay tuned, because in the article below I will cover:
Where and how to sell your product online
Differences between hosted and self-hosted solutions
Ratings of the best hosted e-commerce platforms
1- Where and How to sell your product online?
You can basically sell products online pretty much anywhere. If you are new, you should sell on a market which allows you to list your products. As a newcomer, your marketing and store building skills are still limited, so choosing to sell on an already established market is an optimal solution to quickly earn money. Some markets can be mentioned here such as TeeShip, TeeSpring, Printful, Etsy, Amazon and eBay. After gaining enough experience, you can build your own store, plan your marketing strategy and start your own online business. You can also begin your own brand or business with the dropshipping model.
Some might say: "Selling on the market is quite simple and easy, why do you need to build a store?" The answer is simple: freedom. When selling on an already established market, you will have to follow their rules. They also have all of your customer's account information, product buying habits and they can lock your account if you violate any of their terms (even unintentionally). If you build your own online store you are free to do what you want, grow your business according to your own ideas and have complete control of your online business.
2- Differences between Storage and Self-storage solutions;
There are 2 groups of solutions: archiving and self-archiving. Representing these 2 groups is Shopify in the hosting group and WordPress in the self-hosting group. Each group has different advantages and disadvantages depending on the ability of each customer.
With Shopify, you don't need to know too much about the technical side. You just need to register for the service, build a store and start your business. With WordPress, you need to be a bit tech-savvy in order to do your setup or server configuration. A little bit of HTML / CSS / PHP code knowledge would also be quite useful so that you'll be able to do everything pretty easily with WordPress. One advantage of WordPress is that it is very cheap, much cheaper than Shopify's monthly fees.
If you are an amateur, Shopify is a great choice. They have 24/7 support available to give you support as quickly as possible. Shopify's server is also optimized quite well to have the fastest download speed possible. Although I am a technical person, I used to build a business website using Shopify (which sounds ridiculous because Shopify is only suitable for selling websites), but as I mentioned, with very little HTML /CSS/Liquid knowledge, you will be able to customize your store very easily in Shopify. The only barrier is price, but if you can make a profit with Shopify, then the cost would be well worth it.
There are also a lot of articles comparing storage and self-archiving solutions. You can see a detailed comparison here, which may help you choose an optimal and effective solution for your online store. I recommend using Shopify and spending time marketing your store instead of wasting time on technical issues of WordPress.
3. Ratings of the best hosted e-commerce platforms.
Shopify is the brightest storage solution with more than 1 million users, which is an admirable number for any business. This is the glory of Shopify, but behind that is a lot of advanced technology in the field of software development not to mention a customer support system working hard 24/7. Please analyze according to the basic factors that a user is interested in Shopify.
a. Shopify themes and design
Shopify themes are usually designed in a simple style yet optimized for user experience. Simplicity does not make your store look boring, in fact it takes your store to the next level. If you have gone through famous fashion websites like ASOS or MWMT, then you probably noticed these stores look quite simple. Shopify is choosing its own way but it is quite effective. Shopify themes are a bit expensive and cost around $ 180, you will also have to pay additional costs for any additional applications but in general, it is quite worth it.
There is also the option of buying a Shopify theme elsewhere such as Envato. The biggest benefit of buying Shopify themes on Envato is the very affordable prices. Although, you have to be aware that some of the Shopify themes are of very poor quality. We recommend you only buy Shopify themes that are selling well in Envato, or have a high average rating like Kalles, Gecko, Elessi, Wokiee, Molla, Basel … These themes have been selling for a long time and are of the highest quality. Another advantage of buying Shopify theme in Envato is the cost savings for applications. The better quality themes have many built-in features normally purchased as "add on" APPs with monthly fees, so you'll save quite a bit of money.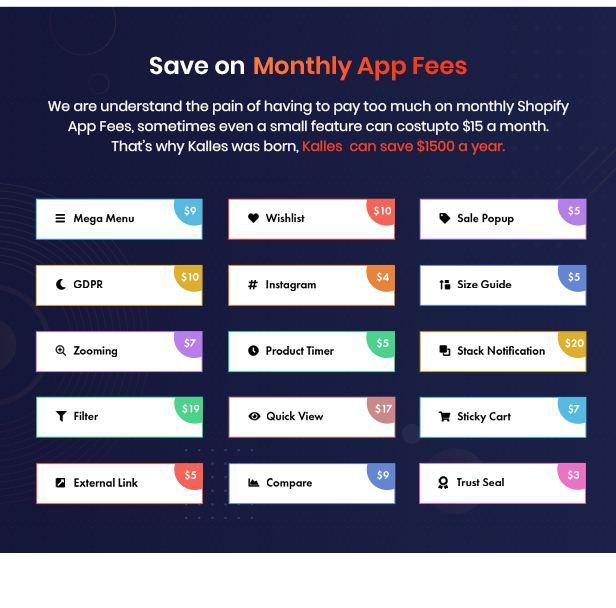 b. Shopify pricing
You can use Shopify for $29 a month, which is quite affordable. The cost of 1 month for both Shopify and additional applications will depend on each business, but for new businesses it averages to about $60 a month. Shopify also has more advanced packages with more features, but we are looking at the lowest price as we are talking about new businesses. Compared to self-hosted solutions, the price is much higher, but you will get a lot of benefits from Shopify. You can spend more time for marketing instead of learning technical issues, which can not help you bring the fastest profit. You can see more about pricing here.
c. Shopify support
Shopify provides a high level of support to its customers via email, phone and live chat, allowing newcomers to learn the strings more easily. The Shopify Support Team is available 24/7 via live chat and phone (only in English), however they offer email support in 20 languages.
d. Summary
The pros of using Shopify:
Easy to use Interface
Many features and diverse Themes
24/7 quick support
Rich application store
Supports multiple payment gateways
Customers need not care about resources or technology
Can upload unlimited products
provides SSL certificate
Mobile application support
Provides detailed analysis of the store
The cons of using Shopify:
Do not allow store data after closing
Sometimes locked but provides no reason
Does not support Mailchimp